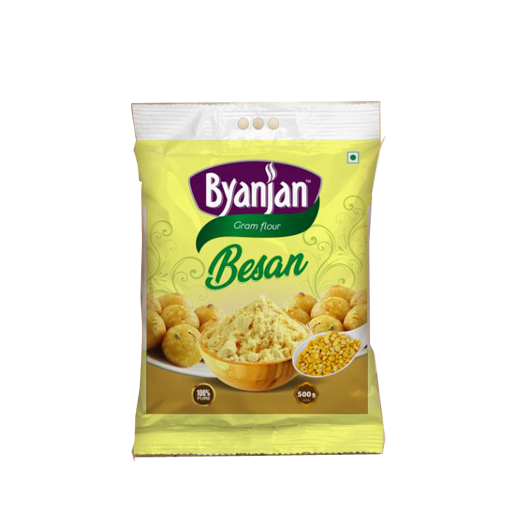 Byanjan Besan
Byanjan Besan
Byanjan Besan is mainly used in making a variety of dishes like Kadhi Pakoda, Besan Laddu, Snack, Dhoklas, Gatte, Missi Roti etc. It is a healthy source of carbohydrates, proteins and minerals it is particularly good for diabetic people.
Byanjan Besan is mainly used in household preparations, especially during festive times. Sharing Verities of sweets, a box of mouth-watering Laddus with friends & family during Deepawali or chit chatting at tea time with a plateful of spongy Dhoklas, Byanjan Besan creates not just delicious food but also unforgettable memories. Enjoy some classic delicacies made with Byanjan Besan and be sure to share it with family & friends to make every occasion a very special one.
Byanjan Besan is processed in hygienic environment conditions using quality chickpeas procured from reliable market vendors. It is widely demanded in homes, hotels and restaurants for preparing delicious food items such as Kadhi, Sweet Dishes as well as Pakoda. Offered Besan is a rich source of carbohydrates and protein, while it is gluten-free. Byanjan Besan can help to improve your heart health as it is rich in vitamins, minerals, and fibers, avilable in 500g.