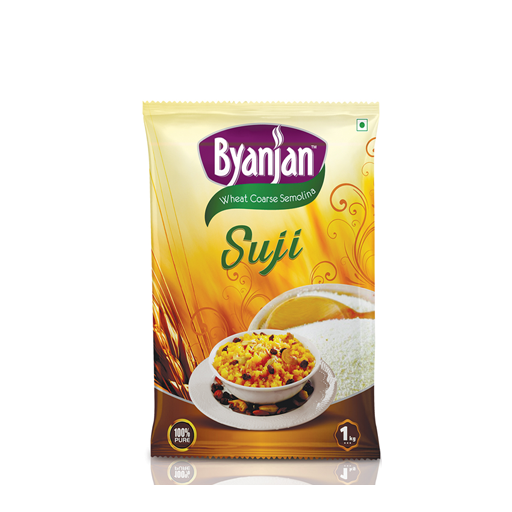 Byanjan Suji
Byanjan Suji
Banjan Suji is a nutritious wheat coarse semolina that holds the responsibility of quality to international standards and produce cost-effective & high-quality food products. It is the result of the finest grains processed with intense care in order to ensure its' property intact.
Byanjan Suji is the central endosperm part of wheat produced by thoroughly cleaned and tempered wheat which is ground and purified in purifier to remove bran particles which are again passed through magnetic separator for the quality enhancement.
Byanjan Suji is the wheat coarse semolina, which natural taste and high nutrition values are maintained right through our world-class refining methods. From domestic food items like Halwa & Upma to international ones like spaghetti, pasta, and pudding; Byanjan Suji truly makes your kitchen heaven of global cuisine which keeps the entire family coming back for more.

Byanjan Suji makes healthy and soft dishes from the selected farm-fresh harvests. Byanjan Suji is manufactured with the wheat which
is cleaned through double magnetic separator double de‐stoner and double surface cleaning system to ensure the quality products.