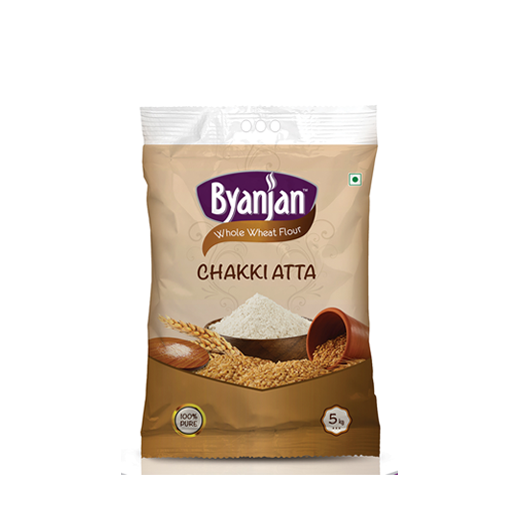 Byanjan Aata
Byanjan Aata
Banjan Atta is an exceptionally nutritious whole wheat flour. Byanjan holds the responsibility of quality to international standards and produces cost-effective & high-quality food products. It is the result of finest grains processed with intense care in order to ensure its' property intact.
Byanjan Atta is the whole wheat flour, a basic food ingredient derived by grinding the whole grain of wheat using Chakki. Wheat is cleaned by using a magnetic separator and emery polisher prior to grinding. Final Atta is passed through entoleter and is stored into food-grade stainless steel silo which is again sifted using Vibro‐sifter.
Byanjan Atta is mainly used in large amounts to prepare for flatbread (Chapati) which have high fiber content, damaged starch, water absorption capacity and high nutritional value beneficiary to health. Byanjan Atta gives chapatti with more eating quality, flavor, and palatability.
Byanjan Atta makes healthy and soft dishes from the selected farm-fresh harvests. Byanjan Atta thus gives you all benefits and wholesomeness of Atta preserving its natural goodness.
It is available in 2 Kg and 5 Kg